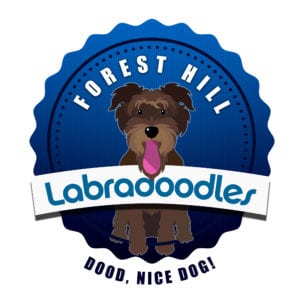 What is your puppy pricing?
Forest Hill Labradoodles are priced at $2,500.  Yeah, I know, that is pretty expensive but the memories are worth more than that!  For more information, please go to puppy pricing.
What do you feed your dogs?
Forest Hill Labradoodles feeds our dogs dog food . . .da!  Australian Labradoodles are great dogs and great dogs deserve great food.  We feed our dogs premium dog food.  Our dogs are all on a mixture of Raw food and dry food.  The dry food that is used is Orijen.  Majority of our dogs are on a balanced raw diet.  There are many options for a raw diet and we encourage all pet owners to research their local raw options.  For general information on raw feeding, please click here.
Do you have a visiting policy?
Yes we do a visiting policy.  As a health measure and safety precaution for our pups and moms, our home is not open to the general public for visits. If you have a confirmed reservation for an upcoming litter, you will have the opportunity to meet our dogs.  We only have a few litter per year and the breeding is done out of our home.  Thank you in advance for respecting our privacy.
What made you decide to breed dogs?
We just love them and if we did not breed them, we would probably be overwhelmed with too many dogs.  Our story is unique and our interest is to pay it forward.  This is not our full time job as our goal is to improve the breed and provide you with an awesome dood!
Why should I buy a dog rather than rescue one?
That is a personal decision.  There is great pleasure in rescuing a dog.  There are many rescue organizations if you were to choose that route.  My personal preference is to raise a puppy because you have a better understanding of the background of the dog.
Do you have a health guarantee?
You bet we do, please go to the Health Guarantee
Is an Australian Labradoodle a pure breed dog?
Australian Labradoodles are not recognized by the AKC yet but the breeder club that we are a member of is working on it.  Australian Labradoodles are different than Labradoodles because they date many years to Australia.  Service dog breeders were interested in placing dogs to individuals with allergy issues.  The Australian Labradoodle is a mixture of Labrador Retriever, Poodle and Cocker Spaniel.